Engage in a meaningful dialogue with PT Binal Dave
Physical therapists delve into the core factors behind issues, prioritizing comprehensive resolution over mere symptom relief. They empower patients to take an active role in their healing, cultivating a strong sense of ownership for their health journey. Gain insights into the all-encompassing philosophy of physical therapy through an expert who extends their guidance beyond scheduled sessions, ensuring a well-rounded understanding of your well-being.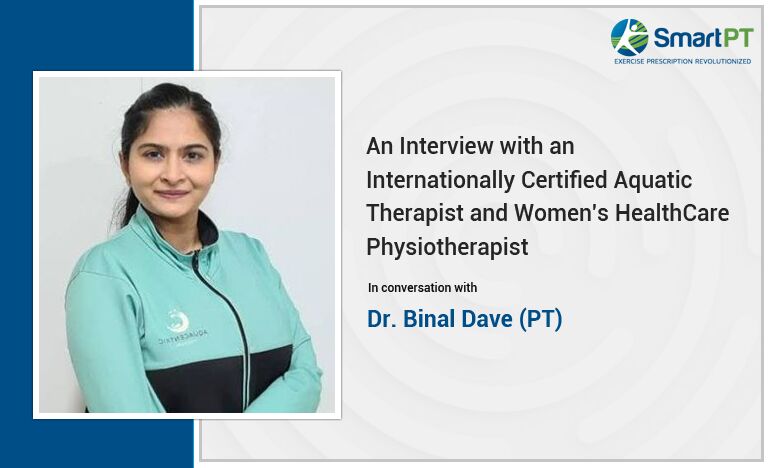 Who did we Interview?
Dr. Binal Dave serves as the Medical Director at AquaCentric. She possesses expertise as both an Orthopedic and Women's Health care Physiotherapist, holding international certification as an Aquatic Therapist and specializing in Pelvic Floor Rehabilitation. With over 16 years of experience, her extensive knowledge enriches her diverse skill set.
Starting with the Questionnaire
Question 1: What inspired you to specialize in pelvic floor health?
There are many opportunities for physiotherapists to specialize in treating certain types of patients or performing a particular method of physiotherapy. One option for specialization that women's health physiotherapists can pursue is pelvic floor therapy. You might decide to specialize in pelvic floor therapy if you're interested in helping women, as many pelvic floor therapists guide women through strengthening their pelvic floor after medical conditions or childbirth. So, I, as a women's health physiotherapist, decided to specialize in pelvic floor health.
Question 2: Many pelvic floor issues are associated with pain. How do you address pain management as part of your rehabilitation approach?
Physiotherapy treatment for hypertonic pelvic floor muscles or pelvic pain usually includes "hands-on" manual therapy, diaphragm breathing, awareness exercises, biofeedback, and down-training approaches to relax and lengthen the pelvic floor.
Question 3: What types of conditions or injuries do you commonly treat using advanced aquatic therapy?
Using advanced aquatic therapy; I treat conditions such as:-
Pain

Sprain and strain

Arthritis

Fibromyalgia

Orthopedic injuries

Sciatica

Post-surgical pain

Gait and posture issues

Stress

Balance issues

Neurological disorders

Multiple sclerosis

Spondylitis

Autism spectrum disorders

Stroke

Traumatic brain injuries

Spinal cord injury
Question 4: How do you stay updated with the latest advancements and research in the field of aquatic therapy?
The evidence base for aquatic physiotherapy practice continues to grow and improve in quality by advancing aquatic therapy skill development courses.
Question 5: What are your thoughts on increasing the use of physio practice management software?
Running an effective allied health practice, especially as a physiotherapist, is complex. Your time is most meaningful and valuable when spent treating patients and by automating the administrative tasks, you can do exactly that. The features of a specialized case management system can help you run an effective practice by bringing all of your administrative tasks, documentation, and billing into one central location.
To Sum Up
As a Women's Healthcare physiotherapist, PT Binal Dave focuses on the rehabilitation needs of women. With a profound comprehension of these complexities, she provides personalized therapies that enhance the well-being and empowerment of women.